The shipping costs are € 5.95 for all orders up to € 100, - NOW € 50, - Orders over € 100, - € 50, - are sent free of charge! except for skirting boards and profiles and other heavy items such as glue and sandwiches and other subfloors, decking cartons etc. These are usually € 35, - You can send us the € 35, - separately for your order no. smaller volumes go into consultation.
Recently, we can also ship small orders on a pallet for about € 35, -! so you only have a few buckets of glue or slabs or a few meters of bread oid can be that way or we can look at the article and the vulnerability as far as possible.
Of course, it is also possible to take out, please contact us for more information.
With us everything has been ordered in principle today (the product is in stock and the payment is within us).
ACTION: All Skirting is temporarily for only € 39, - delivered! in NL (excluding islands) (normally € 50, -)

The shipping costs for Belgium are € 9.95 NOW € 5.95 for an order amount of € 50, - (above only 5.95 , NOW FREE!)
For the rest of Europe it is always € 19.50 shipping costs (in some cases it may be more! For example, Spain may be more like pallets, etc.). Please contact our customer service at any time.

Customers from Belgium can best choose the Bank Transfer option on our Belgian account. Please do not forget to use the IBAN and the BIC codes that you find under the Contact Us when transferring.

(Always ask for costs in advance, it may differ quite differently by province or product).
Pallets ed to Belgium is about € 50, - delivery costs for a pallet and skirting ed
These costs must be handed over to us.
The above applies in principle at all times to all skirting boards and profiles and regardless of what is calculated or not in the system or what the shipping module shows. (This is because we can not calculate this separately. The system simply sees it as a product and not as a hard to send product).
You can transfer this amount to us over your order number.
You can pay up to € 300, - by credit card! (For safety reasons for both you and us).
Tip Use the new Ideal or Bancontact / MisterCash module if you want to pay larger amounts, this is the fastest and most cost-effective.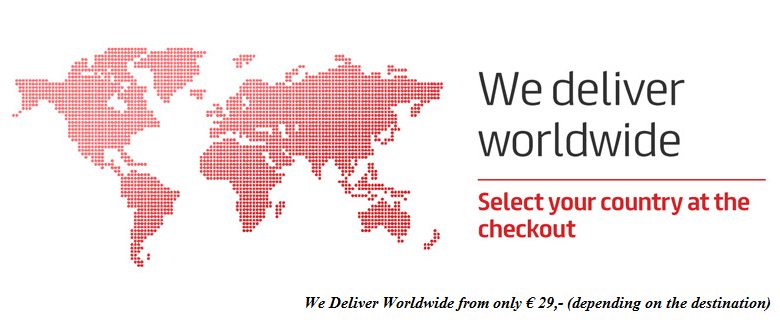 RETOUR PROCEDURE,
Products that describe in the description that it is perishable where is either fresh or upgraded product and therefore vulnerable and / or specially ordered items are   excluded from the right of return and can therefore not be returned in any way. Wood and laminate floors, underlayings, glue, oils, lacquers, laundry, maintenance products, special tools and related products that must be ordered. Specially ordered items are excluded from the right of return.
In order to cancel, you must log in to your account ( logged in as customer ) within 14 days of sending it and send a ticket containing the notification return and description products with order number and name or email if you do not have an account ( logged in as a guest ) to [email protected] In this email you must enter your name, order number and (if applicable) your bank details. You also indicate that you wish to cancel your order in accordance with the law buy remotely.
You will be sent an email with the return form upon receipt, you must complete it and print it out. Please add to the products. After receipt of the return form, another 14 days to return the package.

If your request meets the above, you will receive a confirmation with the return form and the address to which you can return your order.
RETURN COSTS ARE FOR YOUR ACCOUNT.

It is up to you to pack the products well and remove the old shipping sticker before a new label is added, and at the return address only with mail.nl can be delivered. You must keep the return voucher of the post.nl well.
Any damage and leaks will return doo r you must be self declared at post.nl. Wise to send this insured.
As soon as we ship your shipment in its original state (Return shipments will only be accepted if the packaging and its contents of the product are undamaged, unopened, not exposed to excessive humidity, or otherwise exposed to harmful effects from the outside) received a return. If it is suspected that the product has already been opened and / or used or damaged by the customer's fault, Tisa reserves the right to grant no or only partial refund of the order amount. The new (return) and shipping costs are for your account.
You can choose between the so-called "big credit" and you will receive a credit from us and will receive your next credit order. You will then receive an update on outstanding "store credit".
If you choose to return the money, this will be refunded within 14 days using your payment method .
Items that are sent without consultation and not through our return procedure will not be processed.
Download the return form here.
digital folder and print:
All expressions are subject to printing and typing errors.